What is the Moogseum?
The Moogseum is the museum that brings synthesizer pioneer Bob Moog's legacy to life. Our facility explores his contribution to the world of sound and music with multi-sensory, interactive timelines and exhibits, an immersive dome presenting how electricity becomes sound, historical exploration of synthesizers, and the opportunity for guests to play both theremins and Moog synthesizers.
What are the hours of the Moogseum?
The Moogseum is open daily from 11:00 am – 5:00 pm every day except for major holidays.
What are the COVID-19 protocols at the Moogseum?
Our Health and Safety Policy: Your safety is important to us. Hand sanitizer is provided at the entrance to the Moogseum and must be applied before entering. For those who prefer to not use hand sanitizer, complimentary gloves are available. A face mask covering both your nose and mouth is required at all times while in the Moogseum. Please practice social distancing by maintaining a physical distance of six feet apart from other visitors not in your party.
Is the Moogseum kid-friendly?
Yes! The Moogseum features multiple interactive exhibits to delight and entertain all ages, including hands-on instruction for playing the theremin and synthesizers. That said, it is not a children's museum, per se.
How long does it take to get through the Moogseum?
Guests average 30-45 minutes while touring the exhibits.
Is there a discount ticket available?
No, the admission price for the Moogseum is set as low as possible for everyone to afford.
Can I buy tickets online?
Yes, tickets are available online here and in person at the Moogseum.
Is there a tour guide or schedule?
The Moogseum is a self-guided tour with an overview of the exhibits provided by the staff at the ticket counter.
Is the Moogseum handicap-friendly?
Yes, the Moogseum is ADA compliant.
Is the Moogseum dog friendly?
No, due to the electronic nature of the Moogseum, pets are not allowed in the exhibit area.
Does the Moogseum have a public restroom?
No.
Are there any souvenirs to purchase?
The Moogseum Store offers an array of legacy items for sale to celebrate your visit as well as gifts for discerning friends.
Can I take photos in the exhibit area?
No, photography and videography are not allowed in the exhibit area. In the Moogseum Store you have the option to Take a Selfie With Bob which features a large portrait of Bob, painted by local artist Dustin Spagnola, and our Minimoog sofa.
Does the Moogseum have parking?
The Moogseum does not have its own parking facility. There are several parking decks nearby, as well as metered street parking. For more information about city parking decks visit Park In a Parking Garage. The garage closest to the Moogseum is the Rankin Avenue Garage. For real-time counts of open spots in Asheville parking decks visit Where's Parking?
Is Bob Moog still alive?
Sadly, no, Bob passed away in 2005.
Why is the Moogseum in Asheville?
Bob lived in Asheville for the last 25 years of his life. The company that he started, Moog Music, is located in Asheville, as is the Bob Moog Foundation.  "Bob's Early Connection to Asheville" exhibit inside the Moogseum provides detailed information to this question.
Is the Moogseum part of Moog Music?
No. The Moogseum is run by the Bob Moog Foundation. The Foundation is an independent 501 (c) (3) non-profit organization devoted to carrying Bob's legacy forward through innovative science education and historic preservation. We are not associated with the manufacturer Moog Music, Inc.
Can I volunteer for the Moogseum or the Bob Moog Foundation?
Yes! The Foundation and Moogseum are non-profits and your support helps. Although there are currently no continuous positions, special events and other projects benefit from the help of volunteers. Please sign up to stay informed of opportunities here: Volunteer.
How do I donate to the Moogseum?
You can make a donation at the Moogseum, in cash or by credit card, or you can donate online at: Donate
Does the Moogseum accept donations of archival material?
Yes! We welcome donations of a wide variety of archival material including synthesizers, theremins, photos, schematics, company memorabilia, product catalogs, correspondence, and much more.
Please contact us at (828) 258-1262 for more details.
What is a synthesizer?
A synthesizer is an electronic musical instrument, typically operated by a keyboard, in which the user can sculpt sound by generating and combining audio signals of different frequencies, timbres, and harmonics.
What famous musicians played a synthesizer?
Synthesizers have been used in all genres of music, from country to rap, classical to rock and everything in between. The list of famous musicians is in the hundreds, if not thousands.
Still have questions?
Email us at info@moogseum.org or call 828-258-1262.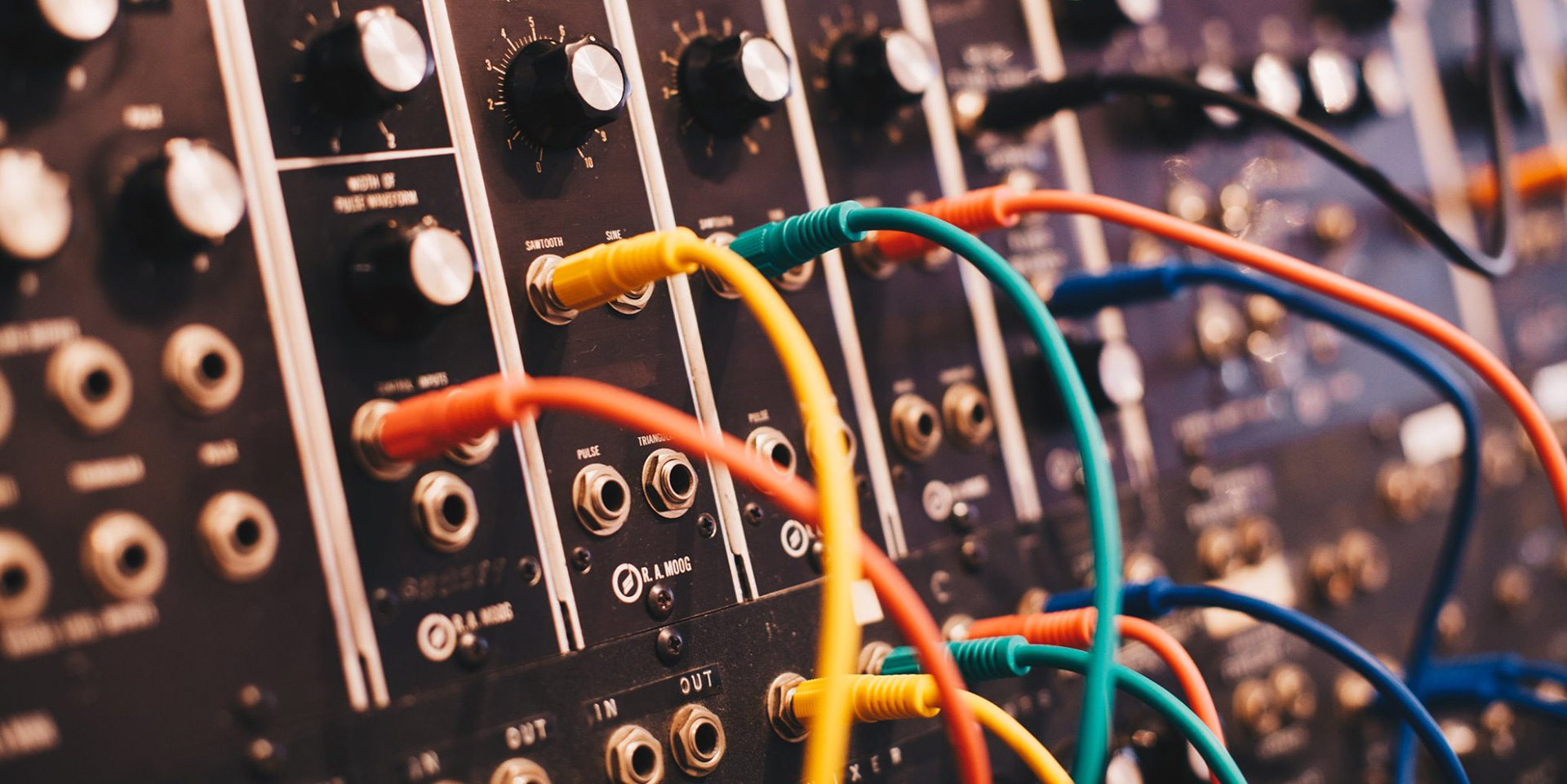 Get Plugged Into...
Bob Moog's electronic music legacy of innovation and inspiration through an array of interactive exhibits.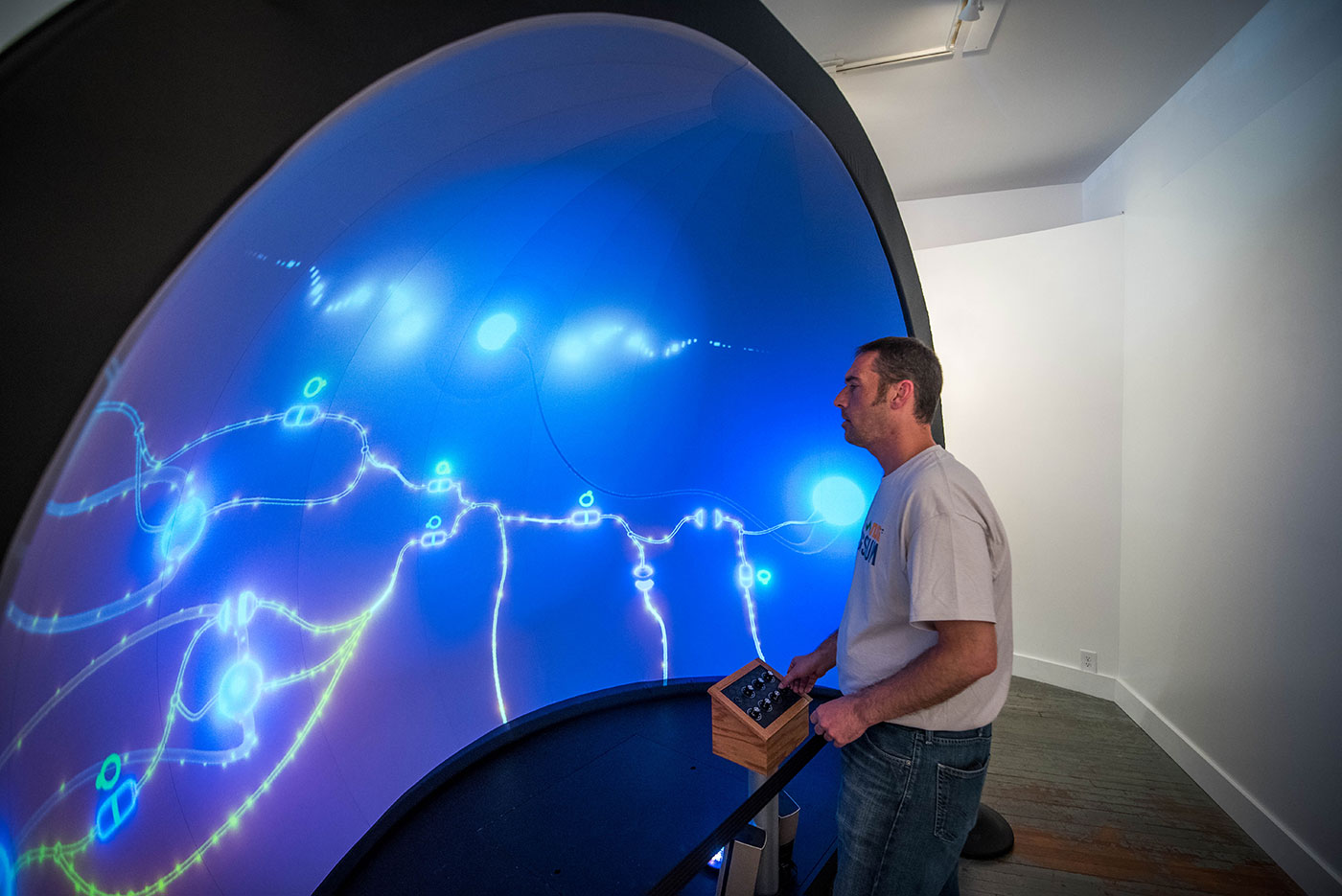 Immersive Dome Exhibit
Step inside a circuit board and trace electricity as it evolves into sound, delving into the very heart of Bob's work in sound synthesis.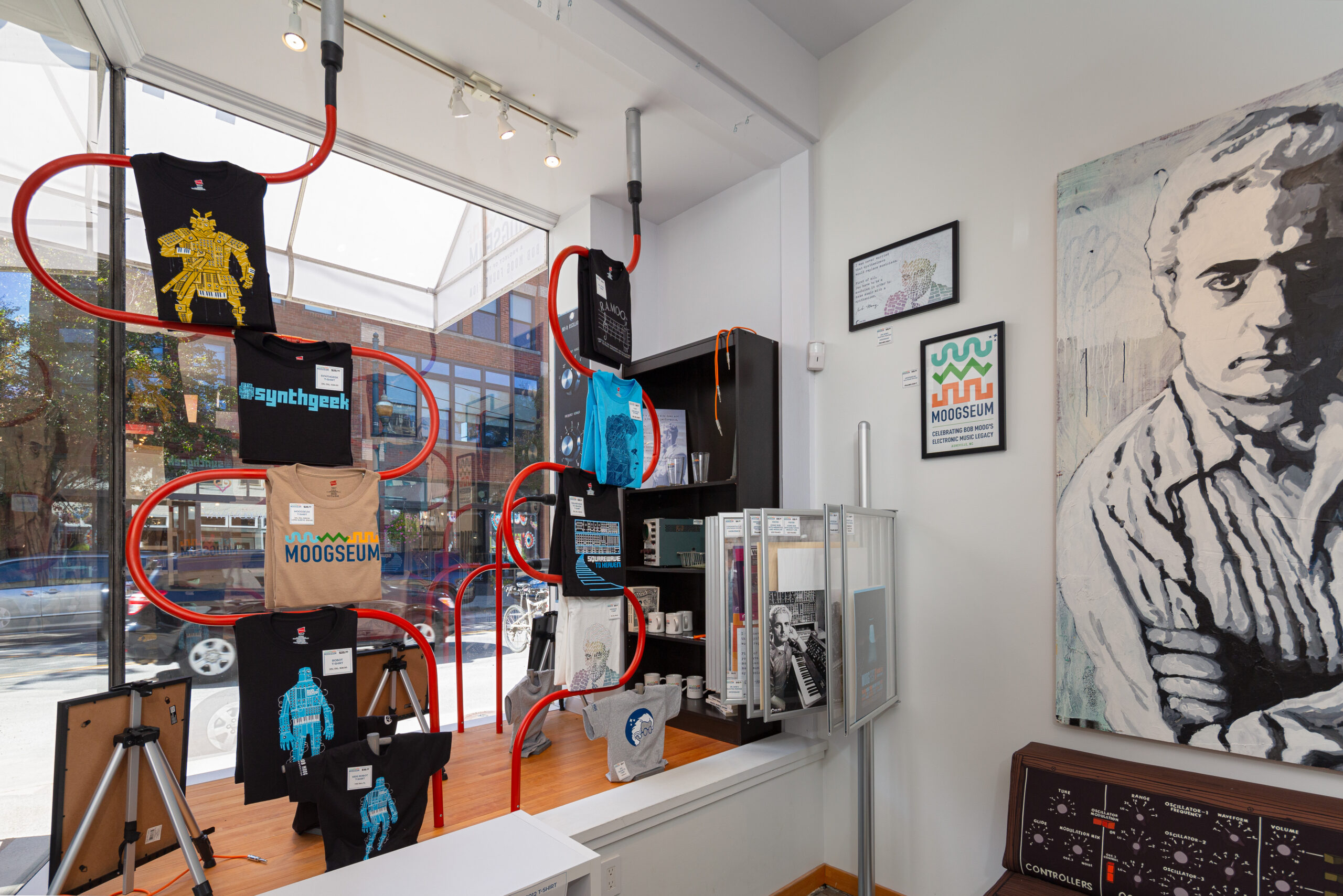 The Moogseum Store
Features legacy-related items and other interesting collectibles available exclusively at the Moogseum.