Moogseum Re-Opens
October 5, 2020 – (Asheville, NC) –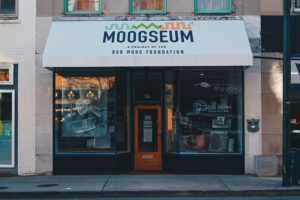 The Bob Moog Foundation announced today that the Moogseum, located in downtown Asheville, NC, will reopen to the public in accordance with the Covid-19 update from the Governor of North Carolina's announcement to move to Phase 2.5.
The Moogseum is open at 50% occupancy 11:00 AM – 5:00 PM daily except Sundays and Tuesdays.
We're looking forward to seeing you!
Our Health and Safety Policy:
Hand sanitizer is provided at the entrance to the Moogseum and must be applied before entering. For those who prefer to not use hand sanitizer, complimentary gloves are available and must be worn at all times
A face mask covering both your nose and mouth is required at all times while in the Moogseum.
Practice social distancing by maintaining a physical distance of six feet apart from other visitors not in your party.
.