Celebrating the Moogseum's Second Anniversary and Bob Moog's 87th Birthday with Moogseum Mocha by The Hop Ice Cream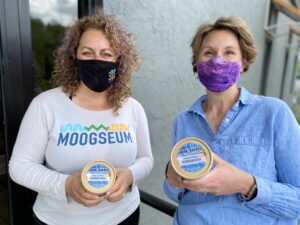 Michelle Moog-Koussa, executive director of the Bob Moog Foundation, and Ashley Garrison, owner of The Hop.
The Bob Moog Foundation and the Moogseum are excited to announce the creation of a new flavor by Asheville, NC's The Hop Ice Cream in celebration of the Moogseum's second anniversary and Bob Moog's 87th Birthday. Moogseum Mocha will be on sale the week of May 17 – 23rd exclusively through The Hop's Online Store, with curbside pick up at The Hop Ice Creamery at 167 Haywood Road in West Asheville. Proceeds from the sale of Moogseum Mocha, and all items purchased in The Hop Online Store will be donated to the Bob Moog Foundation to support operations of the Moogseum.
"Ashley and I both fondly remember making chocolate milkshakes for Bob Moog himself, easily recognizable by his highly decorated car, at the original Hop location," recalls Greg Garrison. "We are pleased to create Moogseum Mocha (mocha ice cream mixed with housemade brownies) in his honor, to celebrate the Moogseum, and to support the Bob Moog Foundation!"
The Hop Ice Cream Cafe is a true Asheville institution, proudly serving the community since 1978 with an imaginative array of handcrafted dairy and vegan ice creams and sorbets in each retail location and in The Hop Online Store. Ashley and Greg Garrison, owners and joy makers, began working at The Hop in 2003 as UNC Asheville students, then took the reins in 2008, and have since happily endeavored to create a genuinely positive community-minded business around delicious handcrafted ice cream.
How to Order Moogseum Mocha:
Visit https://thehopicecreamcafe.com/ May 17th through May 22nd, 2021.
Curbside pickup will be available on Tuesday, May 18th, Friday May 21st, and May 22nd at The Hop Ice Creamery, 167 Haywood Road, Asheville, NC 28806
Customers are encouraged to place their orders early, as quantities are limited.